It is important you know what it means to serve responsibly.
As part of our commitment to choice, many of our restaurant partners are able to offer alcoholic beverages on their menus.


However, the health and safety of our entire network is our top priority.
It is essential that any alcoholic beverage is delivered responsibly and in line with Government legislation.
Note: Menulog is currently unable to facilitate alcohol deliveries in NSW.


These laws are in place to help protect the community and when it comes to delivery, it's especially important to be aware of three key rules:
Legal Drinking Age: The legal drinking age in Australia is 18, which means any courier delivering alcohol

has the legal obligation to check that a customer is over the age of 18

before providing them with an order containing alcohol.




Intoxication: It is illegal to provide alcohol to anyone that is already drunk.

Secondary supply: It is illegal to provide alcohol to someone who may then give it to a minor (someone under the age of 18)



As potential suppliers of alcohol, we recommend all couriers on the Menulog network should ask at the restaurant whether an order contains alcohol and if it does, make sure it is delivered safely and lawfully.


How to check customer identification

Australian State Government states you should check ID for any customers who appear to be 25 years or younger and confirm they are over 18. This includes any person on the premises that appears to be under 25 years of age. Here's how:
Look at their Government-issued ID card (NSW allows digital licences) and confirm the photo matches the customer to ensure it is the same person.

Make sure the ID card is valid – both the type of ID and date – and ensure the date of birth displayed is more than 18 years ago.

Make sure the ID is legitimate and includes features such as a hologram – beware of fake IDs or IDs that do not match the customer in person.
How to check ID contact-free

Social-distancing remains very important amid the COVID-19 situation. It is important that you continue to practise contact-free collections and deliveries, with a minimum distance of 1.5m between yourself, restaurant staff and customers.

In order to check ID, while keeping a safe distance, we recommend you:

Ring the doorbell or knock to let the customer know you have arrived and step back a safe distance.

When you sight the customer, ask them to provide a valid ID by holding this out to you. If you cannot see the details, please ask the customer to place the ID down and step back a safe distance.

Confirm the ID is valid and place the order down, before leaving the premises.




What is an acceptable form of identification?

All identification must be in its original form – no photocopies or photos should be accepted. The following identification can be accepted when delivering alcohol:
Australian State or Territory driver's licence (licence card or digital licence – NSW only)

Australian State or Territory learner's permit

Proof of age card

Keypass card

Australian or foreign passport




What should I do if the customer does not have a valid ID?

If the customer cannot produce a valid form of ID please contact Menulog via the chat function in the Menulog Courier App and follow the following steps:
1. Tell the customer you cannot provide them alcohol due to the fact they could not produce a valid form of identification and that you will be returning the product to the restaurant/store.
Note: The customer will receive a refund for their order and you will receive full payment for the delivery
2. Return the alcohol to the restaurant/store you collected it from.
Note: You will receive an additional payment for this trip.


What happens if the customer is intoxicated?

It is illegal to supply alcohol to anyone that appears to be intoxicated. Some signs of intoxication or 'being drunk' are:
Slurred speech; too loud or too fast

Lack of coordination and weakened balance

Staggering walk or inability to walk

Slower reaction times

Smells of alcohol



If you think a person is intoxicated, please contact Menulog via the chat function in the Menulog Courier App and return the alcohol to the restaurant / store as per the steps above.


If at any time a customer becomes upset or angry, we highly recommend removing yourself from the situation and contacting Menulog immediately. The Menulog Courier team are live and can support you throughout any issues with delivery.


What happens if the customer does not answer or is not home?
If you cannot deliver the alcohol, you must return it to the restaurant/store by the same process listed above.


What happens if the alcohol is with a food order, but the customer does not have a valid ID or appears intoxicated?

You can provide the customer with the food portion of the order, however, you must not provide them with the alcohol. This must be returned to the restaurant/store via the process above. Please contact Menulog via the chat function immediately in your Courier App to alert us to this.

What if I don't want to deliver alcohol?

If you have arrived at a restaurant to collect an order that contains alcohol and you do not want to deliver it, please immediately contact Menulog via the chat function in your Courier App and we will match another courier to collect the order. You will still be compensated for the collection portion of your delivery.


How do I know the order contains alcohol?

We have provided the below stickers to all restaurants that offer alcohol via the Menulog Delivery Service. It is the restaurant's responsibility to tell you if a customer order contains alcohol, however, you can also ask this of restaurant staff on collection. It is very important to follow the correct process for alcohol deliveries and ensure you look out for this sticker: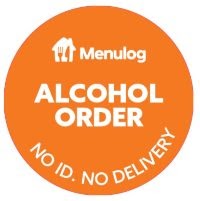 If you have any questions about delivering alcohol on the Menulog network, please contact couriers@menulog.com.au