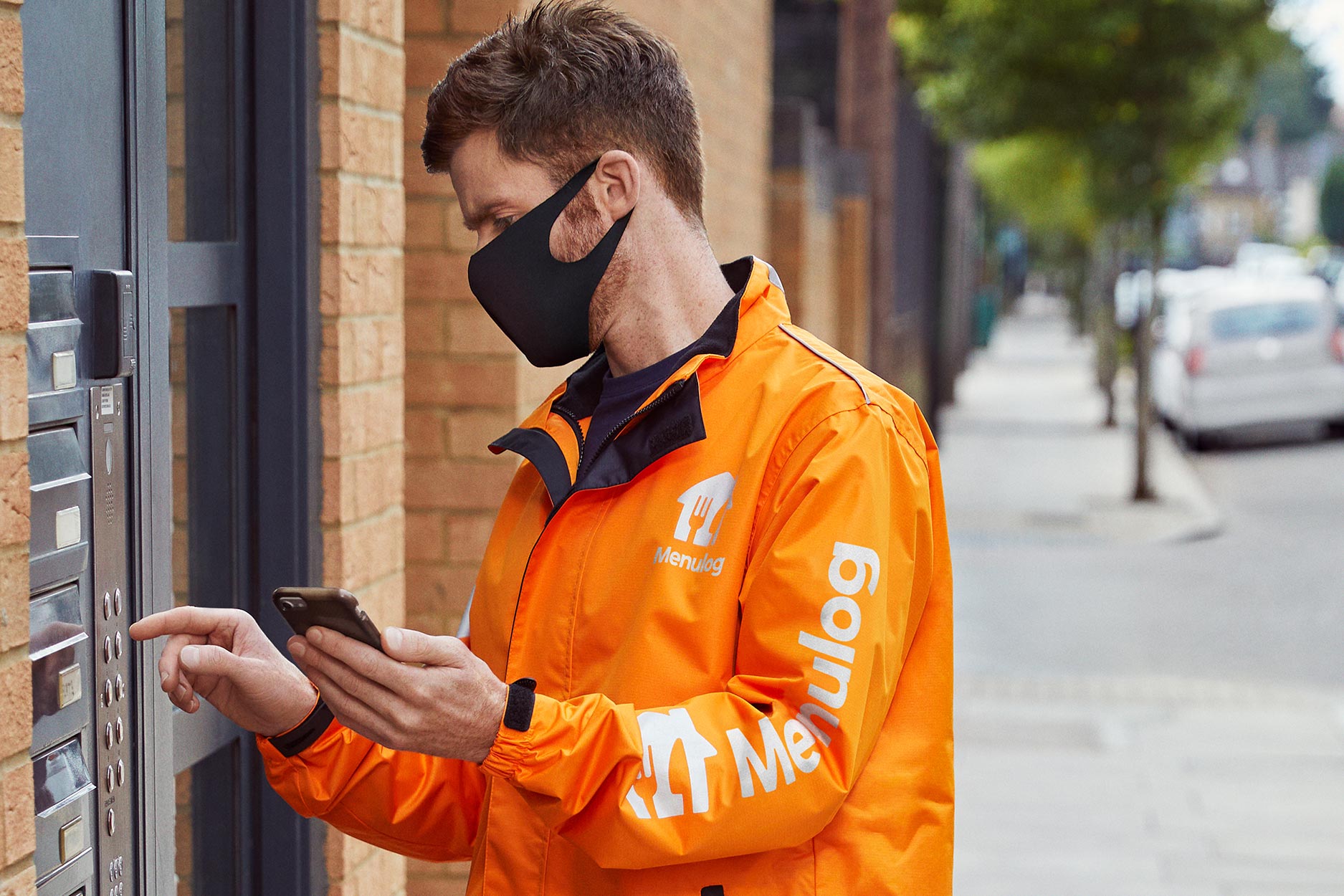 In response to Coronavirus (COVID-19), all deliveries on the Menulog Network are Contact-free by default. We are running this initiative as a precautionary measure to reduce health risks to our community of customers, restaurant partners, and couriers.
Contact-free Delivery
To ensure the safety of everyone on the Menulog Network, the entire Menulog delivery process is contact-free by default. To ensure safe social distancing, we suggest the following steps:
Contact-free collections
Ensure you are wearing your mask and check into the restaurant using the QR code displayed. In the event the restaurant is closed for dine-in or the doors are shut, please make yourself known / visible to staff

Step back a safe distance from staff and wait for them to place the food on the counter or a table

Step forward to collect the order and immediately place in your thermal bag
Contact-free deliveries
Ensure you are wearing your mask and alert the customer you are there by knocking, ringing the bell or other

Place the order at the door or specified location and step back a safe distance

Make sure you sight the customer and they have collected the order before you leave - this is very important, especially for people that are relying on delivery at this time
It is very important you make sure you let the customer know you have delivered the food so that meals are not left to get cold or inedible for people that are relying on delivery.
Alcohol Delivery
The health and safety of our entire network is our top priority and as such, if you accept an alcohol order, it is essential that any alcoholic beverage is delivered responsibly and in line with Government legislation.
Need more information and guidance on alcohol delivery? Read more on the Inside Track to know the ins and outs of alcohol deliveries.
N.B. Menulog is currently unable to facilitate alcohol deliveries in NSW.
If you have any questions about delivering alcohol on the Menulog network, please contact couriers@menulog.com.
Keep food safe with delivery gear:
We must all be extra vigilant on food safety at this time. As such, Menulog has made bag seal stickers and additional paper delivery bags available via the Menulog store to all Australian restaurants.
It's also important that all orders, from the time it leaves your restaurant to when it reaches the customer, are delivered in a commercial grade thermal food bag. Please ensure that you either have these available at your restaurant or, if you are utilising the Menulog Delivery Service, that any couriers come with their own bag.
Follow guidance from leading health authorities:
We encourage all restaurant partners to follow guidance from the Australian Government (Australian restaurants) or your relevant State health authority website. You can find a list here. Please also follow guidance from the World Health Organisation (WHO) to help protect yourselves, your staff and customers.
WHO Recommendations
Wash your hands frequently




Regularly and thoroughly clean your hands with an alcohol-based hand rub or wash them with soap and water.

Maintain social distancing




Maintain at least 1 metre (3 feet) distance between yourself and anyone who is coughing or sneezing.

Avoid touching eyes, nose and mouth




Hands touch many surfaces and can pick up viruses. Once contaminated, hands can transfer the virus to your eyes, nose or mouth. From there, the virus can enter your body and can make you sick.

Practice respiratory hygiene




Make sure you, and the people around you, follow good respiratory hygiene. This means covering your mouth and nose with your bent elbow or tissue when you cough or sneeze. Then dispose of the used tissue immediately.

If you have fever, cough and difficulty breathing, seek medical care early




Stay home if you feel unwell. If you have a fever, cough and difficulty breathing, seek medical attention and call in advance. Follow the directions of your local health authority.

Stay informed and follow advice given by your healthcare provider




Stay informed on the latest developments about COVID-19. Follow advice given by your healthcare provider, your national and local public health authority or your employer on how to protect yourself and others from COVID-19.
Exceptional Financial Support Payments
We recognise that COVID-19 has brought huge uncertainty for many people including self-employed couriers in our network. We have therefore committed to providing a 14 day Exceptional relief payment (calculated daily, paid weekly), equivalent to half of your average weekly fees from the past six weeks, capped at $300 per week, as long as you meet the relevant conditions.
Please note, these payments are not available to those where State or Federal Government payments are available, including the COVID-19 Disaster Payment (support workers unable to earn income due to a COVID-19 state public health order) and the COVID-19 Pandemic Leave Disaster Payment (support if you can't earn an income because you must self-isolate or quarantine, or are caring for someone with COVID-19). Please click the links to see if you are eligible for these payments or other.